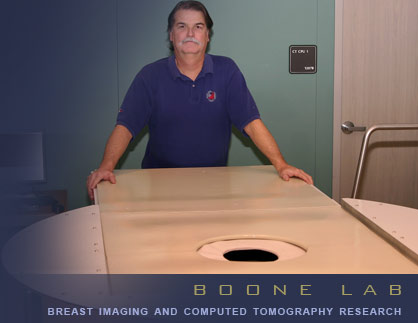 The Boone Laboratory is located on the UC Davis Medical Center campus in Sacramento.  His lab encompasses approximately 1500 square feet in the Research Imaging Center, with two research areas for the development of CT hardware and the evaluation of x-ray imaging systems.  The lab includes a number of x-ray sources and detectors, as well as analysis equipment pertinent to x-ray imaging.Mammography is the current standard for breast cancer screening, however it is acknowledged by experts in imaging that mammography is not ideal.  We are studying the potential of tomographic imaging of the breast using a custom-designed breast CT scanner.  The breast CT system is capable of generating 300 to 500 tomographic slices of the breast using the same radiation levels as two view mammography, and these images allow the radiologist to view regions in the breast unobstructed by overlaying normal anatomical tissue, which can obscure lesion identification and reduce cancer detection performance, especially in the dense breast.   We have designed, fabricated, and tested two prototype breast CT scanners in the lab, and were the first group in the world to perform cone beam breast CT on live women.  We have performed over 140 breast CT studies as of January 2008.  Future advances on the breast CT system include the addition of positron emission tomography (PET), robotic biopsy, and the addition of therapeutic capabilities including radiofrequency ablation and radiation therapy.
Education
B.A. UC Berkeley 1979  Biophysics
M.S. UC Irvine 1981  Radiological Sciences
Ph.D. UC Irvine 1985 Radiological Sciences
Society Affiliation and Activities
American Association of Physicists in Medicine (AAPM)
Fellow
Chair, Science Council
American College of Radiology (ACR)
Fellow
Society of Breast Imaging (SBI)
Fellow
Radiological Society of North America (RSNA)
Associate Editor, Radiology
Chair, Committee on Radiation Dose and Image Quality in Computed Tomography, International Commission for Radiological Units and Measurement (ICRU).
Selected Publications
Boone JM and Brunberg JA, Computed tomography use in a tertiary care university hospital, JACR 5;132-138 (2008)
Lindfors KK, Boone JM, Nelson TR, Yang K, Kwan ALC, Miller DW. Dedication breast CT: Initial clinical experience, Radiology 246:725-733 (2008)
Nelson TR, Cervino LI, Boone JM, and Lindfors KK, Classification of breast computed tomography data, Med Phys 35: 1078-1086 (2008)
Huang S-Y, Boone JM, Yang K, Kwan ALC, Packard N. Evaluation of breast skin thickness from 46 dedicated breast CT examinations. Med Phys 35: 1199- 1206 (2008)
Xia JQ, Lo JY, Yang K, Floyd CE Jr, Boone JM, Dedicated breast computed tomography: volume image denoising via a partial-diffusion equation based technique, Med Phys 35:1950-8 (2008)
Zhou H, Boone JM, Monte Carlo evaluation of CTDI(infinity) in infinitely long cylinders of water, polyethylene, and PMMA with diameters from 10 mm to 500 mm., Med Phys 35: 2424-2431 (2008).
Metheany KG, Abbey CK, Packard N, Boone JM, Characterizing anatomical variability in breast CT images, Med Phys 35: 4685-4694(2008)
Huda W, Nickoloff EL, Boone JM, Overview of patient dosimetry in diagnostic radiology in the USA for the past 50 years, Med Phys 35: 5713-5729 (2008)
Giger ML, Chan H-P, Boone JM, Anniversary Paper: History and status of CAD and quantitative imaging analysis: The role of Medical Physics and AAPM, Med Phys 35: 5799-5820 (2008)
Yang K, Kwan ALC, Huang S-Y, Packard NJ, Boone JM, Noise power properties of a cone-beam CT system for breast cancer detection, Med Phys 35: 5317-5327 (2008)
Abbey CK, Eckstein MP, and Boone JM, An equivalent relative utility metric for evaluating screening mammography, Medical Decision Making, 2009
Y Wu, SL Bowen, K Yang, N Packard, F Lin, G Burkett, J Qi, JM Boone, SR Cherry, RD Badawi, PET characteristics of a dedicated breast PET/CT scanner prototype, PMB 2009: 54; 4273-4287
S Bowen, Y Wu, A Chaudhari, NJ Packard, GW Burkett, K Yang, KK Lindfors, DK Shelton, R Hagge, AD Borowsky, SR Martinez, J Qi, JM Boone, SR Cherry, RD Badawi, Initial characterization of a dedicated breast PET/CT scanner during human imaging, J. Nucl Med. 50 (2009)
Boone JM, Method for evaluating bow tie filter angle-dependent attenuation in CT: Theory and simulation results, Med Phys 37, 40-48 (2010)
Boone JM, Dose spread functions in computed tomography: A Monte Carlo study, Med Phys 36, 4547-4554 (2009)
MJ Yaffe, JM Boone, N Packard, O Alonzo-Proulx, Peressoti K, Al-Mayah A, Brock K, The Myth of the 50%-50% breast, Med Phys 36, 5437-5443 (2009)
G Wu, JG Mainprize, JM Boone, MJ Yaffe, Evaluation of scatter effects on image quality for breast tomosynthesis, Med Phys 36, 4425-4432 (2009)
Chaudhari AJ, Bowen SL, Burkett GW, Packard NJ, Godinez F, Joshi AA, Naguwa SM, Shelton DK, Hunter JC, Boone JM, Buonocore MH, Badawi RD, High resolution 18F-FDG PET with MRI for monitoring response to treatment in rheumatoid arthritis, Eur J Nucl Med Mol Imaging DOI 10.1007/s00259-009-1364x (2010) Image of the Month for this journal
Li CM, Segars WP, Tourassi GD, Boone JM, Dobbins III, JT, Methodology for generating a 3D computerized breast phantom from empirical data, Med Phys 36, 3122-3131 (2009)
RL Dixon and JM Boone, Cone beam CT dosimetry: A unified and self-consistent approach including all scan modalities – with or without phantom motion, Med Phys 37: 2703-2718 (2010)
Prionas ND, Ray S, Boone JM, Volume assessment accuracy in computed tomography: a phantom study, JACMP 11(2): 168-180 (2010)
Prionas ND, Gillen MA, Boone JM, Longitudinal volume analysis from CT: reproducibility using adrenal glands as surrogate tumors, Journal of Medical Physics 35, (2010)
Alonzo-Proulx, O., N. Packard, J. M. Boone, A. Al-Mayah, K. K. Brock, S. Z. Shen and M. J. Yaffe (2010). Validation of a method for measuring the volumetric breast density from digital mammograms. Physics in Medicine and Biology 55(11): 3027-3044.
N Prionas, KK Lindfors, S Ray, S-Y Huang, LA Beckett, WL Monsky, and JM Boone, Contrast-enhanced dedicated breast CT – Initial clinical experience, Radiology 2010: 256;714-23
D Van De Sompel, M Brady, JM Boone, Task-based Performance Analysis of FBP, SART, and ML for Digital Breast Tomosynthesis using CNR and Channelised Hotelling Observers, Medical Image Analysis 2011: 15;53-70